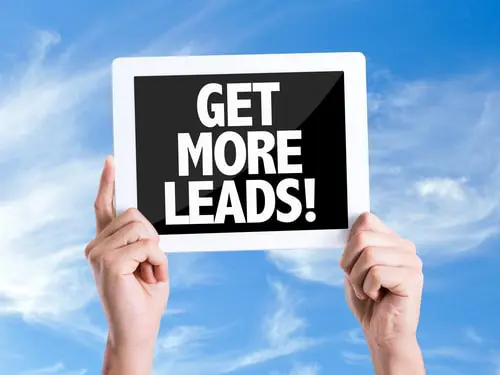 Prospecting – The Secret to Earning More Revenue
Prospecting
I'm sure we've all heard the two sales maxims "sales is a numbers game" and "luck is not a sales strategy". Both maxims are true and obvious, but are frequently ignored.
Sales is a Numbers Game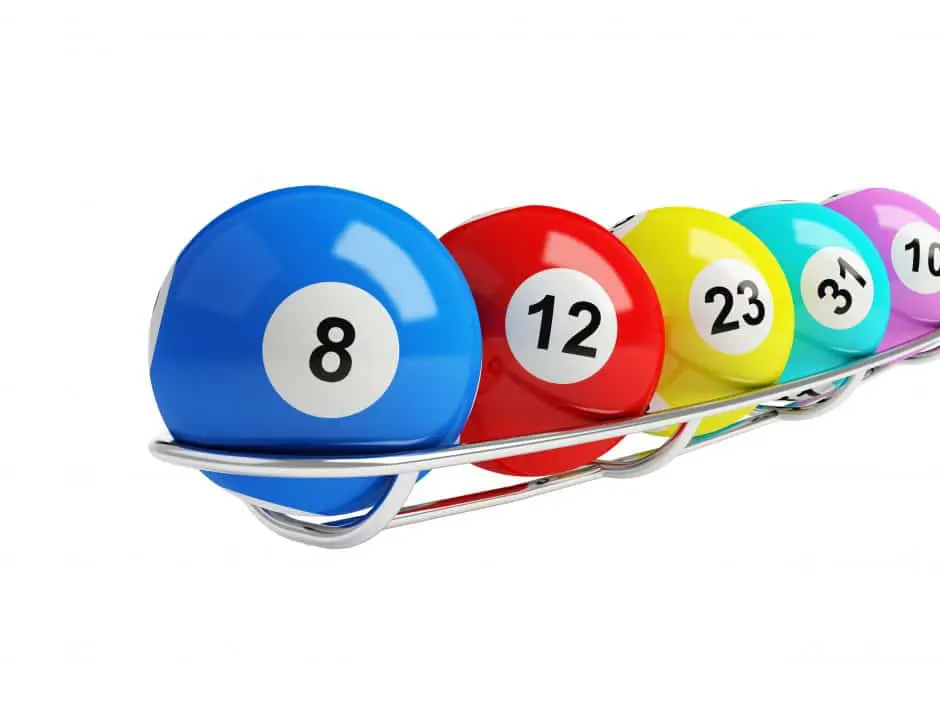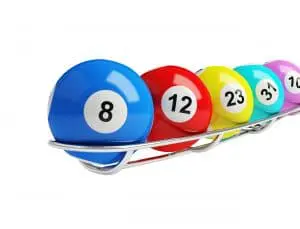 Let's take the 1st maxim "sales is a numbers game"; the better you understand your numbers the more effective you will be at closing more sales. So what numbers are we referring to? I'll try to keep this brief;
Essentially not everyone you engage with will buy what you're selling, we all understand that.
In complex sales the process can be broken down into different phases, typically;

Suspect
Qualified opportunity
Discovery & investigation
Proposal
Decision

This is frequently referred to as the sales funnel, because as you transition or 'convert' from one phase to the next, the numbers of 'prospects' in each phase reduces, see below;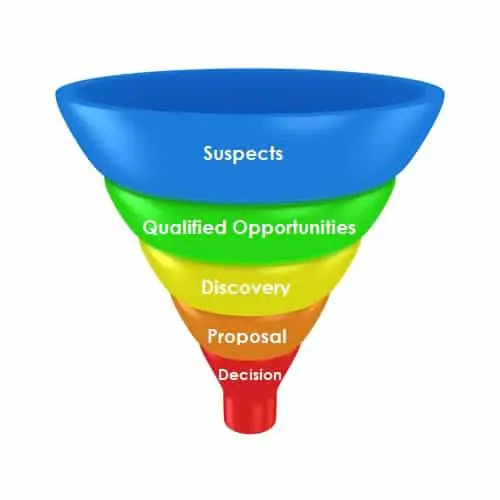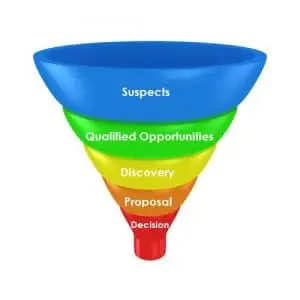 4. So, the 'conversion' between 'suspects', people you suspect could be suitable clients might be 20%. In other words, out of every 10 people you speak with, 2 will become qualified opportunities. Qualified opportunities can be determined after you've asked qualifying questions. We cover qualification in more detail here https://www.b2bsell.com/sales-leads/ and here https://www.b2bsell.com/10-cold-calling-tips/
So essentially "sales is a numbers game"; the more prospects you have in your sales pipeline the more sales you will close. Research by Jeb Blount for his book, Fanatical Prospecting (https://www.fanaticalprospecting.com/) revealed that the top 20% of sales performers were responsible for 80% of sales! When Jeb looked at every other part of the sales cycle he frequently found that little separated the top and bottom performers. A note of caution, read this first https://www.b2bsell.com/5-profiles-b2b-sales-reps/ before you buy into Jeb Blount's mantra.
Luck is not a Sales Strategy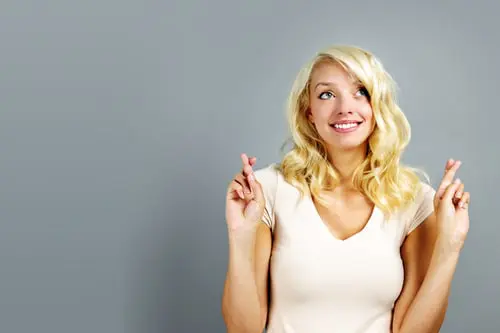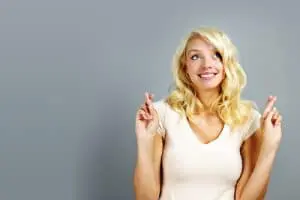 The 2nd maxim "luck is not a sales strategy", essentially you need to develop a strategy for sales prospecting.
There are no short cuts here. To succeed, you need to be consistent, systematic and frequent and to achieve that you need to plan properly.
I remember a sales organisation I was once associated with and there was one person who consistently hit the highest sales revenue. He was consistently the best performer because week in week out, regardless of how well he felt, how strong his sales pipeline was looking or whether it was winter or summer, he religiously contacted 100 companies.
Plan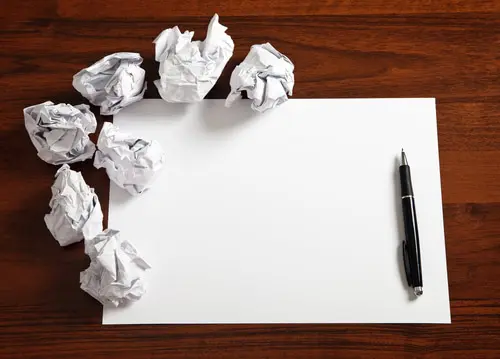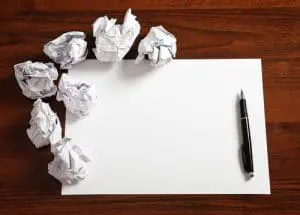 So, before you make a call, write an email or socially interact with your target audience – Plan;
Decide what is the profile of the ideal company and, or the persona of your ideal customer.
Understand the total number of companies that represent your market opportunity
Divide the total number of companies you can reach out to within a year into monthly blocks of effort
Be prepared to recycle people you could not contact first time round
Each week make the effort to contact or 'reach out' to whatever number makes up your quota for that week – No exceptions
If you can't prospect yourself, employ or outsource someone else to undertake the task. This is something that B2BSell do every day, every week and month, on behalf of our own clients. Clients who don't have the time, inclination or know how to do it themselves.